JAWS Buckets & Attachments Conference
Posted on 1 May 2019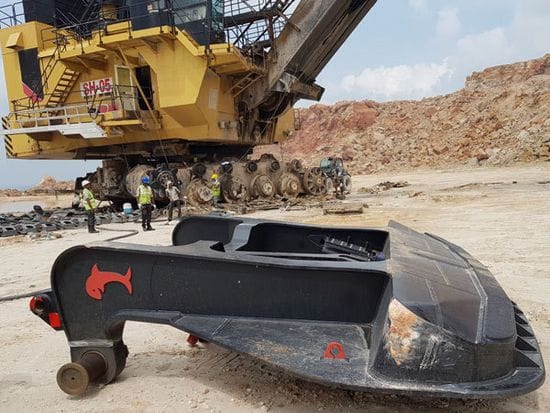 ZEMEK and JAWS join forces for dipper door upgrades
ZEMEK has been involved with the Australian mining industry since the 1970's. During that time, we've evolved from a local business to an international solutions provider. We're incredibly proud of our success but it wouldn't be possible without collaboration.
Over the years, we've been fortunate to work with some of the leading brands in mining. In 2017/18, we joined forces with JAWS Buckets & Attachments the best bucket manufacturer in the business to improve the design of P&H 4100 electric rope shovels and CAT 7495 shovel dipper doors using high-performance polymer components.
Our Managing Director, Paul Hockings, and Operations Executive, Ray Kemp, presented the results of the partnership to worldwide distributers at the JAWS Buckets & Attachments Conference in Brisbane on 7 March 2019. Here's an overview of the collaboration and key project outcomes.
Two companies with common goals
Like ZEMEK, JAWS Buckets & Attachments has been a key player in the mining industry for over 40 years. However, that's not all our companies have in common. JAWS share our passion for continuous improvement, efficiency and innovation. They are committed to improving the output, performance and profitability of mines and they are industry leaders in dipper doors. So, when ZEMEK wanted to upgrade the tripping systems of the P&H 4100 and CAT 7495 with hard-wearing polymer components, it made sense to have JAWS handle the fabrication.
Project overview and outcomes
ZEMEK worked closely with JAWS to refine the OEM design of the dipper doors, starting with the CAT 7495. The upgrade included strengthening steel sections where required, upgrading internal wear plating on the inside of the doors and, most importantly, incorporating ZEMEK's high-grade polymer components.
Polymer components have many advantages over traditional steel. ZEMEK's polymer components have advanced thermal and mechanical properties such as flexibility, compressive strength and impact resistance. They significantly reduce friction and wear on working parts of dipper doors, and they don't require lubrication.
As well as greatly improving the efficiency of dipper doors in operation, polymer component upgrades lead to cost savings and improved performance over the long term.
Since developing the dipper door upgrades with JAWS, ZEMEK has converted over 35 doors and begun exporting polymer conversions internationally. We recently flew to South Africa to convert three P&H 4100 doors to the delight of local teams. We also completed a similar project on three Caterpillar 7495 shovel doors at Reliance Mine in India.
Need to upgrade your dipper doors?
Following enormous success in Australia, South Africa and India as well as the great response we received at the JAWS conference in March ZEMEK tripping system upgrades to P&H 4100 electric rope shovels & CAT 7495 shovel dipper doors are now being promoted worldwide via the JAWS distributor network.
While ZEMEK's proprietary polymer components are primarily used in dipper doors in shovels, they have other applications. The innovation can be developed into custom solutions on request, including:
Conversion of dipper door equaliser bushing and bail arm bushing from steel to nylon
Conversion of saddle block wear plates from brass to nylon
More information
Contact ZEMEK to enquire about dipper door upgrades or learn more about benefits of polymer mining parts.